Nigeria sapphire Ceramics Co., Ltd. sent a commendatory letter to Henan D.R.
13-09-2022
Recently, Nigeria Sapphire Ceramics Co., Ltd. sent a commendatory letter to Henan D.R., expressing its gratitude to the project department of Nigeria ENUGU 15MW for working overtime and overcoming difficulties to complete the concrete pouring work of 1# coal conveying corridor, which created favorable conditions for the operation of the gas station and 1 # workshop.
Since the construction peak in July, the project department has actively responded to the schedule requirements of the owner, overcome many adverse conditions such as the rainy season construction, and accelerated the progress project under the guidance of the leadership of the company. At present, the underground civil project are basically completed, the installation of the boiler body draws to a close,the steel structure hoisting work orderly, cooling tower, floor slab, zero meter cable trench, chemical water tank production and installation, dust collector assembly and lifting, slag removal facilities and slag warehouse installation, air compressor equipment installation, and other working faces are under full construction. The project is setting off a construction boom.
In order to ensure the realization of the power generation goal at the end of the year and promote the self provided power station of Nigeria sapphire ceramic factory to be put into operation as soon as possible, the project management team will continue to work hard, make full use of and increase personnel and equipment, make overall coordinate, and make multi-point layout to complete various construction tasks with quality and quantity.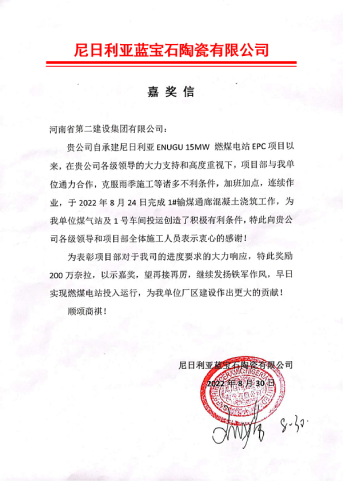 A commendatory letter from Nigeria sapphire Ceramics Co., Ltd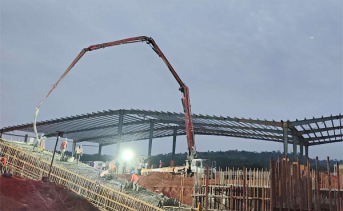 1 # coal conveying corridor concrete construction successfully