The company successfully passed the annual audit of the American Institute of Steel Construction (AISC)
01-02-2021
From September 2nd to 3rd, due to the impact of the epidemic, the American Institute of Steel Construction (AISC) expert Mr. Edward Harmond conducted a remote evaluation of the company's AISC certification audit work online. The company's executive vice president and chief engineer Duan Changzhi and related The head of the department attended the review meeting.
The company passed AISC certification for the first time in 2016. According to AISC requirements, a comprehensive review of steel structure production and paint coating is required every year. In the first audit, AISC experts conducted detailed inspections on quality objectives, welding material management, welding process, paint coating, bolt installation and other production process control, and inspected the qualifications of welders, painters and quality inspectors, and inspected and measured equipment And the management records of the calibration procedures were reviewed. While reviewing contract review, material procurement and control management, AISC experts also paid special attention to the previous non-conformities and corresponding rectification measures.
At the closing meeting, AISC experts affirmed the company's efficient completion of certification management work in a short time and expressed appreciation for the company's management team's ability to collaborate. He believes that the company has done a lot of work in multiple management processes such as personnel qualifications, education and training, equipment maintenance, product process quality management, product technology and system operation and maintenance, and has implemented strict and effective process control. AISC experts also expressed their desire to visit the company in person, and announced that the company passed the annual audit with excellent results of zero rectification items.
Executive Vice President and Chief Engineer Duan Changzhi expressed his sincere gratitude to the AISC experts for their online and efficient review work, and warmly welcome Mr. Edward Harmond to visit the company for inspection and guidance.
The successful completion of the annual review of the American Standard Certification marks a new leap and improvement in the company's international business quality management system and management level, and creates favorable preconditions for the company to enhance its competitiveness in the international market and expand its business scope.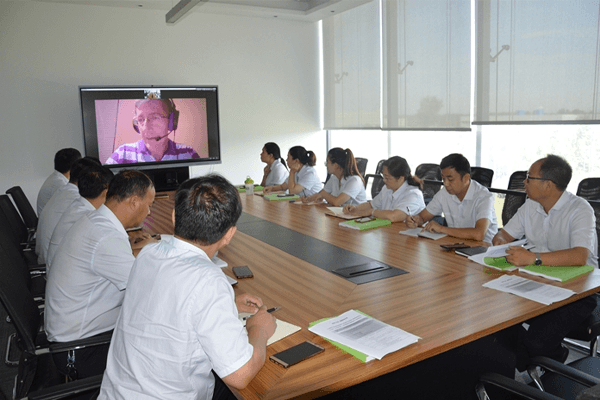 AISC expert online remote certification audit site